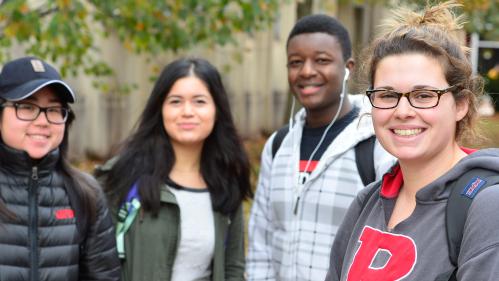 Become a Faculty Diversity Advocate
Lorem Ipsum
Partner with us to inform and support broader institutional efforts to advance an inclusive campus culture. We seek one faculty member from each department for a 12-month term. Starting in the spring, advocates will work closely with school Equity Advisors to support diversity strategic planning.
Advancing an Inclusive Campus Culture
In addition to the following responsibilities, Faculty Diversity Advocates primarily serve as a departmental resource and conduit of communications for all diversity, equity, and inclusion-related activities in their area:
Promote activities from the Division of Diversity, Inclusion, and Community Engagement (DICE)
Work with school Equity Advisor to participate in meetings and activities they organize
Attend one meeting each semester organized by DICE to learn about school and campus-wide diversity initiatives
Provide feedback on programming, resource development, and broader institutional efforts to support diversity, equity, and inclusion
Send notices to department members to promote engagement and awareness of resources
Serve as a resource to promote attention to diversity in faculty recruitment via STRIDE workshops and other initiatives
Encourage department members to apply for Diversity Innovation Grants and future funding opportunities that enable faculty to join in the work of building sustainable communities
Cultivate other faculty members from your department to become future Faculty Diversity Advocates
Remain a resource for diversity after the term has expired
Be an Advocate
In appreciation for participating, Faculty Diversity Advocates will be featured on the diversity website, attend an end-of-the-year virtual gathering with campus leaders to recognize their work as an advocate, and receive a Rutgers-branded mask and DICE swag.