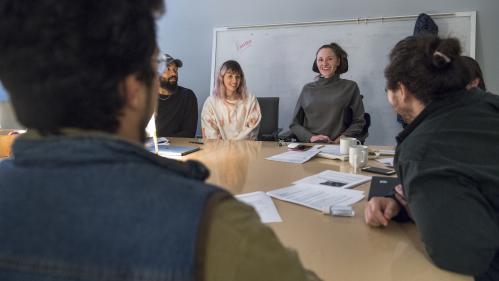 Diversity Innovation Grants
Propose a project that moves our community values from ideals to actions
Applications Are Closed
Applications for the Diversity Innovation Grant are currently closed. This page will be updated when the next round of applications opens.
What Are Diversity Innovation Grants?
Taking an active role to build a beloved and inclusive community is the responsibility of us all. Diversity Innovation Grants offer a way for creative, innovative, and grassroots efforts to move our core values from ideals to actions.
The Rutgers University–New Brunswick 2017 Taskforce on Inclusion and Community Values outlined our action-oriented goals as follows:
Work towards inclusion and respect difference
Provide opportunity and ensure access
Value innovation and promote leadership
Foster global reach and honor humanity
As we invest in broader institutional strategies to advance an inclusive campus culture, we encourage current students, faculty, and staff from Rutgers–New Brunswick to submit proposals for Diversity Innovation Grants.
Grants are considered one-time seed funds. Existing events or activities that are already funded through another channel will not be prioritized. Proposals should:
encourage understanding and learning,
invest in relationship-building across difference, and
offer new ways to promote equity and diversity on campus.
We invite projects that encourage conversation and connection across race, religion, class, immigration status, gender identity, sexual orientation, age, ability, and nationality. Serious consideration is given to proposals that:
promote cross-campus, intergroup, and partnership approaches to support community-building.

For example, efforts focused on staff, multiple student organizations at the graduate/undergraduate level, or multi-school or multi-unit initiatives that partner together to promote relationships, awareness, and communication.

have a lasting impact, such as a learning community or proposed integration of diversity into curriculum or series of events.
While one-time events will be considered, applicants will need to make the case for why a one-time engagement is significant and has the potential to shape campus culture beyond the activity itself.
Diversity Innovation Grants are also a vehicle to request co-sponsorship for an ongoing activity, but the applicant must demonstrate why the additional funding is needed.
Proposals will be evaluated based on:
relevance to advancing an inclusive campus culture;
nature of impact on participants;
budget feasibility and realistic accounting for costs;

Costs or fees associated with any outside speakers must be reflected in the budget.

demonstrated campus partner commitment; and

If the activity would require certain partnerships to come to fruition within or beyond the campus, those partners should be identified and have signed on to the application at the time of submission. Also note that a letter of support will be requested from entities beyond Rutgers–New Brunswick for projects that partner with community organizations and entities, such as local schools, non-profit agencies, etc.

feasibility that the project can be completed in the time outlined.
Eligibility and Guidelines
An applicant must be a current Rutgers–New Brunswick student, staff, or faculty member. We make awards across all campus roles and strongly encourage applications from all members of the campus community.

Student applicants must be affiliated with a registered student organization with a budgetary account number or have the administrative support of their academic department in order to transfer funding. A letter of recommendation from the students' sponsor or Campus Office collaborator (e.g., faculty member or appropriate representative from a university office/center or student organization) must be included as an attachment with the application.

Diversity Innovation Grants cannot be used to fund the following types of activities:

individual travel;
personnel costs (e.g., salary for a current Rutgers employee and/or student worker salaries);
publication costs; and
conference fees, etc.

Please note that previously funded Diversity Innovation Grant activities are not eligible. If you are unsure whether a proposed project fits within the scope of the Diversity Innovation Grant program, please contact diversity@rutgers.edu.

Grants range from $250 to $2,500. Grants exceeding $2,500 require cost-sharing with another office. Funds are considered one-time seed funds. Examples include:

creating a learning community to promote the development of knowledge or skill-building through a facilitated reading group, series of workshops, or training and planned activities to extend the skills learned;
creating a key resource to fill a campus need that will advance an inclusive culture;
innovations in teaching and performance that aim to promote inclusion in the classroom;
activities that promote community-building, using an intergroup, multi-unit, or partnership approach; and
improving communication across difference.

Applicants must submit a completed budget. See samples below for guidance.

Sample Budget for $500 Grant Proposal

| Item | Description | Cost |
| --- | --- | --- |
| Resource | Resource Creation | $400 |
| Supplies | Event Supplies | $100 |
|   | Total Request | $500 |

Sample Budget for $2,500 Grant Proposal

Item
Description
Cost
Books

Burgstahler's "Universal Design in Higher Education: From Principles to Practice" at $34/copy x 16 people

Evans, Broido, Brown, and Wilke's "Disability in Higher Education: A Social Justice Approach" at $28.50/copy x 16 people

$1,000
Refreshments
Breakfast for participants
$700
Workshop Trainer
Workshop fee for external Universal Design Learning expert trainer for three workshop sessions
$1,800
 

Subtotal

$3,500
Cost Sharing
Center for Student Success research contribution
$1,000
 

Total Request

$2,500

 
Spring 2020 Diversity Innovation Grant Awardees
Accordion Content
Over 20 proposals received grants ranging from $250 to $2,500. These grants are intended to promote projects and activities that move our community values from ideals to actions. The funded projects include workshops, trainings, events, research, and more.
Victoria Banyard, School of Social Work (Faculty)
Spring 2020
Rutgers faculty, staff, and students of the School of Social Work Center on Violence Against Women and Children and the Department of Labor Relations Center on Women and Work received training in Photovoice during an intensive two-day, hands-on workshop in the spring of 2020. The purpose of this training was to better position Rutgers researchers to engage with marginalized communities in inclusive research design, development of interventions, and in communicating with policy makers and other stakeholders. Photovoice is a qualitative research strategy that documents voices from marginalized communities about social problems where they can express their ideas and suggest solutions.

Patricia O'Brien-Richardson, Edward J. Bloustein School of Planning and Public Policy (Faculty)
January 29, 4-7 p.m., Edward J. Bloustein School of Planning and Public Policy
The 2020 CROWN Conference aimed to educate and illuminate the campus and the community at large on a single, unifying topic everyone can relate to: hair. This conference sought to address and explore the impending CROWN Act in New Jersey, an act aimed at eliminating hair discrimination via a multi-prong and interdisciplinary approach of education, advocacy, policy, community engagement, public health, social justice, and human rights. This opens the gateway to address pervasive systemic issues, such as hair discrimination, with the goal of bridging a culture of equity towards systems transformation. The conference was open to the campus and the larger community to build capacity and knowledge for advocacy as part of a community of solutions for change.

Marcy Shwartz, School of Arts and Sciences (Faculty)
Spring 2020 
This project provided a four-week reading and discussion program through People and Stories/Gente y Cuentos at the Unity Square Community Center in New Brunswick. The program brought together Spanish-speaking residents from the Unity Square neighborhood and Rutgers undergraduates from the Department of Spanish and Portuguese to read short stories in Spanish and share their own life experiences through an exploration of the story.

Raquel Vega, School of Environmental and Biological Sciences (Staff)
Spring 2020 
The 4-H Youth Development program at the School of Environment and Biological Sciences (SEBS) has been working on developing and expanding partnerships with New Brunswick youth through collaborations with the New Brunswick School District. To promote family involvement in high-risk communities, the SEBS Department of Youth Development collaborated with colleagues at the University of Wisconsin, Madison, WISCIENCE (Wisconsin Institute for Science Education and Community Engagement) department to develop a training and service learning program for Rutgers scientists and undergraduates in STEM disciplines to teach after school Family Science Programs within the local K-8 school district to underserved youth.

Cassandra Oliveras-Moreno, Mason Gross School of the Arts (Staff)
The proposed project was a Freedom of Expression workshop presented by Mason Gross School of the Arts, The New Brunswick Community Arts Council, and Highland Park Arts Commission, as part of Windows of Understanding 2020. The workshop addressed freedom of speech and expression in the classroom and wider community, particularly as it pertains to the arts. It was facilitated by a panel of representatives of the National Coalition Against Censorship, an organization committed to supporting and advocating for marginalized voices. The 2020 project ran from January 20–February 29 and focused on the themes of Immigration, Mental Health, Mass Incarceration, Food Insecurity, Violence, and LGBTQ+ issues.

David Goldman, School of Arts and Sciences (Staff)
Spring 2020
"What Your Students Want You to Know" was a program designed to give our diverse student population the opportunity to educate faculty on their experience here at Rutgers. Inverting the typical power dynamic of the classroom, panelists had a platform to share their perspectives as members of minority student groups and to address questions from an audience of interested faculty members. This program brought together the School of Arts and Sciences Office of Undergraduate Education with the Cultural Center Collaborative, student organizations, and faculty. This conversation helped faculty see their students more fully, beyond the constraints of the classroom environment.

Ilona Arnold-Berkovits, School of Social Work (Staff)
Spring 2020
The purpose of the event was to present and discuss an unusual approach to promoting and sustaining diversity and inclusion: increasing the probability of college acceptance for students from high schools with higher proportions of economically disadvantaged students. This approach would benefit not only student opportunities and campus culture at Rutgers and other universities, but also at K-12 schools nationally. Representatives and members of applicable Rutgers University departments and groups were invited to this two-hour event.

Darren Clarke, Graduate School of Education (Staff)
The "Empowering Voices of Diversity" Schools Outreach Project built on the existing GSE efforts to develop teachers to be engaged in and committed to excellence, equity, and social justice in their teaching practice. Our vision was to prepare educators so that they are able to educate and engage with students regardless of their background. Six South Africa Initiative alumni served as outreach ambassadors to provide teacher training for five NJ public schools, using curricula innovations inspired by their transformative learning experience in the South Africa program. There was one collaborative planning meeting in February, followed by an April and May training session here at Rutgers. The program anticipated up to 50-75 teachers would participate in each session.

Jimmy Dumas, Institutional Planning & Operations (Staff)
The "Songs We Sing" was a songwriting workshop for 10 students from diverse backgrounds where they could express themselves in a culturally uplifting way through music. Over the span of three sessions and one performance, we challenged the students to deconstruct how the lenses of perception regarding but not limited to identity, race, culture, gender, and class could be used to distort the truth and erode their sense of self-worth. Ideally, we would be able to have them demonstrate their resilience, power, and creativity through their lyrics and melodies.

Olivia Boss, School of Arts and Sciences (Undergraduate Student)
Spring 2020
This project was a formalization of an existing relationship between Rutgers' Department of Anthropology and the New Brunswick Middle School. For the past two years, Rutgers Anthropology students and faculty have given presentations to sixth graders in New Brunswick Middle School following their social studies unit on human evolution. In addition to expanding on the information they learned in class, the presentations also discussed education and career paths related to anthropology and included a period where every student could observe, touch, and ask questions about casts of fossil hominin crania. The grant was used to give the school a set of their own casts to further support their study of evolution.

Julio César López Otero, School of Arts and Sciences (Graduate Student) 
Spring 2020 
The goal of this project was to make the most recent investigations and established benefits of speaking more than one language accessible to the public outside of academia, particularly bilingual populations who often receive misinformation on bilingualism. RUBilingual hosted workshops and forums in the tri-state area to aid in informing, educating, dispelling myths, and discussed concerns with interested members of the community. We also provided specific strategies and resources for schools with linguistic minority speakers to help parents and educators support literacy development in both languages.

Rafael Vizcaino, School of Graduate Studies (Graduate Student)
April 17-18
The Program in Comparative Literature and the Advanced Institute for Critical Caribbean Studies hosted members of the Latin American Philosophy of Education Society (LAPES) for a one-day symposium to explore the linkages between critical theory, pedagogy, and activism. The theme of the symposium was on the pedagogy and activism of Latin American liberation theologies.

Gabrielle Cabrera, School of Graduate Studies (Graduate Student)
This project consisted of two workshops aimed at the undocumented student population on campus. The objective was to provide a space for undocumented and migrant students to write, perform, and/or make an art project out of their migration narratives and experience of undocumented life at Rutgers University and in the broader U.S. publics. The first workshop hosted a local artist and performer from California who shared how their life experience as an undocumented migrant shaped their art in various mediums. The second workshop invited the campus community to share the art projects and narratives they've created via an Open Mic and Art House.

Sarah Ragsdale, School of Arts and Sciences, School of Graduate Studies (Graduate Student)
Spring 2020
"Rutgers Ready!" was a song and music video project that promoted and showcased cross-campus approaches to sustainability. The project included a catchy original song promoting RU values of inclusion and diversity as well as innovation and creativity across the campus community. The project served as a model for encouraging artistic involvement in achieving future sustainability. The project was a collaborative effort by the M.A. Program in Political Science - Concentration in the United Nations and Global Policy studies (UN MA), the Youth Social Entrepreneurship Project, and the Honors College.

May Yuan, School of Arts and Sciences (Graduate Student)
Spring 2020
The proposed project was a workshop on the character virtue of forgiveness and how it could be applied to create mutual understanding between people of different races and cultures, as the first part of a series of events dedicated to Social and Emotional Learning within higher education. The workshop aimed to teach resilience to cultural insensitivity through forgiveness, ways to facilitate communication of one's feelings of offense (toward micro-aggressions, for example), and to cultivate the desire to help the offender to correct the misunderstanding.

Laura Eppinger, School of Environmental and Biological Sciences (Faculty)
This two-day training and reflection was open to all Rutgers staff, and shared perspectives gained from programs run by Rutgers 4-H Youth Development professionals, utilizing Rutgers Cooperative Extension practice. This was a resource-sharing and reflection opportunity for participants. The goal was to share guidelines for cultivating inclusivity when running programs for young people and lessons and curricula to lead with youth. It shared a space that was designated for asking tough questions about engaging with youth in ways that respect the diversity of race, ethnicity, nationality, gender identity, sexual orientation, religion, economic class, and more.

Vincent Javet, School of Environmental and Biological Sciences (Faculty)
Spring 2020
This project designed and fabricated a hybrid temporary-permanent installation in the form of a parkette to transform parking spaces in front of Martin Hall for people of all walks of life to gather together and be immersed in nature. This project was part of the Department of Landscape Architecture's Material Tectonics course. Using both the Blake FabLab and the RU Makerspace, students designed and built a space to promote equity and diversity, ultimately helping rebuild and reimagine part of Cook Campus from a parking lot to a space that would strengthen a sense of community and belonging, using nature as the great equalizer.

Charles Senteio, School of Communication and Information (Faculty)
Spring 2020
Trayes Hall, Multi-Purpose Room, Douglass Student Center

The event was a discussion about how the media portrays African American Activism. It aimed to seed a discussion of how activism has been portrayed in the context of broadly defining "media" which can take on various mediums. The event featured a speaker and diverse panel to engage in discussions on this topic.

Mukti Mangharam, School of Arts and Sciences (Faculty)
Spring 2020
The Committee for Bias Awareness and Prevention (CBAP) in the English Department aimed to build an inclusive environment within the department by raising awareness of issues surrounding racial, gender and sexual discrimination in the academy. The Committee focused particularly on faculty and graduate students, aiming to foster conversations around inclusive forms of pedagogy and community building. Two events were hosted for graduate students and faculty members to discuss pedagogy and hear guest speakers. The Committee also aimed to provide funding for graduate students to restart a previous graduate student group, the Anti-Racism Colloquium, that would hold readings, book discussions, film screenings, and discussions on inclusive forms of community building.

Laura Curran, School of Social Work (Faculty)
Spring 2020
This purpose of this project was to fund a series of podcasts focused on issues related to building and sustaining a diverse and inclusive learning environment in the social work classroom. In the podcast, we "interviewed" a series of faculty, field practicum instructors, and students about their experiences related to diversity and inclusion in the social work classroom and field education settings. The podcasts was hosted on the Rutgers YouTube channel and also highlighted on the SSW website and social media outlets.

Siddhi Shah, School of Arts and Sciences (Undergraduate Student)
The Mark Leadership Conference is one of the largest student-run conferences in the nation. It is a unique and innovative experience where 20+ speakers from diverse backgrounds come together to share their stories of how they made their mark on the world in an all-day event. The annual conference is designed to provide students of Rutgers University and regional institutions a different opportunity to acquire knowledge, cultivate passions, and encourage conversations with inspiring students and professionals from all walks of life. 

Hsiu-Fen Lin, School of Social Work (Graduate Student)
Spring 2020
This project "Honoring our Role: Women Sharing Real-Life Advice, Stories and Recipes Woven into our Souls" helped an invisible group, International Women's Group (IWG) at Rutgers, publish a book with the stories of its members. The IWG is a volunteer organization that was founded in 1988 by volunteers from the Rutgers community. This project invited international women from all over the world to write down their stories in English which for many, is their second language. The book contains personal short stories, advice for their younger selves and family recipes. This project empowered women to overcome language barriers and embrace cultural differences.

Yoliem Miranda Alarcon, School of Engineering (Graduate Student)
The project was a workshop geared towards high school students from the New Brunswick/Piscataway area who are interested in STEM fields and the applications of 3D printing in the Biomedical Sciences. This multi-part event included a tour of the Biomedical Engineering Department labs and the Makerspace shop; a workshop for students to use hand-held 3D printers; a lecture portion to learn about the current uses of 3D printers in regenerative medicine; and two demonstrations in the labs and shop. With this workshop, we aimed to excite high school students from underrepresented communities to pursue careers in STEM.