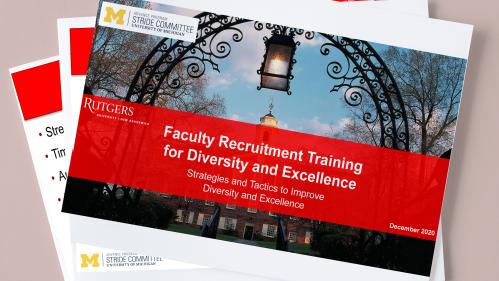 Strategies and Tactics for Recruiting to Improve Diversity and Excellence
Promoting Inclusive Hiring Practices
We offer a faculty recruitment workshop, Strategies and Tactics for Recruiting to Improve Diversity and Excellence (STRIDE), to better support inclusive hiring practices. Faculty and staff with an important role in faculty recruitment efforts (e.g. search committee chairs and members, and other key faculty) are strongly encouraged to attend.
Benefits
Developed by the University of Michigan ADVANCE Program, the STRIDE workshop provides research-driven best practices to recruit for diversity and excellence across every stage in the search process.
STRIDE is designed to help faculty produce diverse candidate pools and run effective searches by:
getting great applications from the best applicants,
developing a strong short list,
managing the visit, and
choosing and attracting the best candidate.