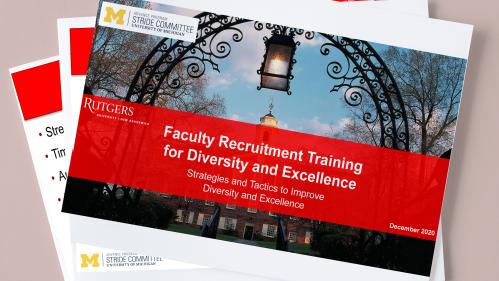 Strategies and Tactics for Recruiting to Improve Diversity and Excellence
Promoting Inclusive Hiring Practices
The STRIDE Committee, consisting of senior faculty members, offers a faculty recruitment workshop consisting of cutting-edge research on diversity and inclusion. It is designed to better support inclusive hiring practices and mitigate against bias. This is a peer-to-peer experience and faculty will be talking to and learning from one another. Search committees should plan to attend a workshop before a job ad is even drafted. Also, given that all faculty are integral to search processes, we strongly urge even those not on a search committee to attend a workshop once every three years. The goal of the STRIDE Committee is to engage every faculty member at Rutgers, New Brunswick over the coming years in order to learn from our experiences and to advance the goal of inclusive hiring. 
Benefits
Developed by the University of Michigan ADVANCE Program, the STRIDE workshop provides research-driven best practices to recruit for diversity and excellence across every stage in the search process.
STRIDE is designed to help faculty produce diverse candidate pools and run effective searches by:
getting great applications from the best applicants,
developing a strong short list,
managing the visit, and
choosing and attracting the best candidate.