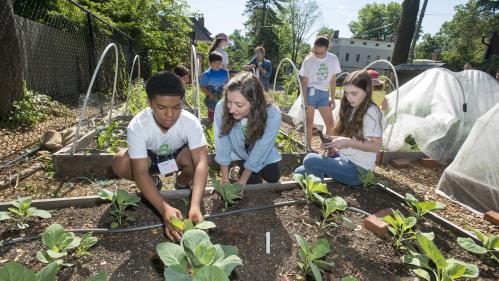 Collaborative Center Programs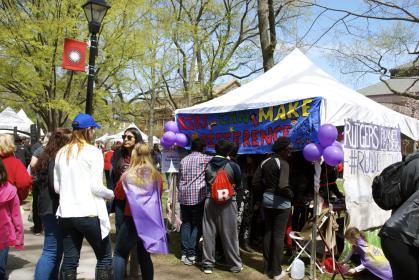 Rutgers Collaborative Center brings together community and government leaders, professionals, faculty, staff, and students sharing experience, expertise, and energy to achieve shared goals for our community through education and action.
Rutgers Collaborative Center represents a history of community engagement at Rutgers-New Brunswick that includes partnerships spanning more than 20 years as well as innovations that respond to emerging social issues, including:
Supporting often-overlooked K-12 students in the academic "middle" by implementing the AVID (Advancement Via Individual Determination) mentorship program and Collaborative Youth Mentoring to support students in their pathway to college.
Partnering to empower youth between 10-16 through AMARD&V (Artists Mentoring Against Racism, Drugs and Violence) arts and culture summer program.
Addressing food insecurity through organizations such as the New Brunswick Community Food Alliance and the Feeding New Brunswick Network that promote access to healthy, culturally appropriate food.
We connect faculty to community projects and prepare students to contribute as youth mentors, community research assistants, behavioral assistants, and civic scholars through our academically endorsed courses and programs designed to sustain community initiatives.
If you have a long-term project or a community event in mind, contact the Rutgers Collaborative Center to explore how we can work together.
Community organizations exploring ways to conduct research or build capacity receive consultative and material support from Rutgers Collaborative Center. We facilitate research partnerships, prepare students for mentoring, research, event support, and other community roles, and create forums such as RU-CARES for dialogue about achieving shared goals.
To learn more about partners support, contact amymic@odi.rutgers.edu.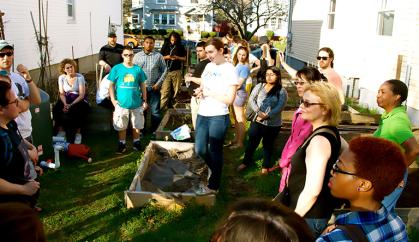 The Collaborative Center support for faculty and staff who would like to be involved in community-engaged teaching and research, or currently involved, includes:
Public scholarship and service recitations that provide a structure to integrate a community-based component into any department.
Guidance for community-engaged course development and research partnerships.
Opportunities for mutually beneficial research, partnerships, and student placements. View an example here.
RU-CARES and conferences that offer opportunities for engagement with community and government leaders, students, and professionals.
Our support extends to student orientations to community service, mentoring by experienced service-learning practitioners, and annual celebration and awards recognizing student achievement.
We will gladly present to your department, meet with you individually, or familiarize you and your students with the New Brunswick community.
To learn more about how we support faculty and staff, email Amy Michael, associate director, at amymic@odi.rutgers.edu.
RU-CARES (Community, Action, Respect, Engagement, Service) is a professional development forum that engages community, faculty, and government leaders in conversations about synergistic community-university partnerships and best practices to advance social change.
A committed working group of community-engaged faculty represents academic units across Rutgers–New Brunswick and contributes to RU-CARES. Over three hundred students, faculty, staff, and community leaders representing twenty-seven community partnerships attended the inaugural series.
RU-CARES launched with Leading Together, a panel discussion on civic leadership facilitated by Rutgers alumnus and broadcast anchor Steve Adubato and including Jaymie Santiago, president and CEO of New Brunswick Tomorrow. This event was followed by Learning in the Community, a workshop on incorporating community-based learning for meaningful capstone experiences led by Dr. Ariane Hoy, vice president of the Corella & Bertram F. Bonner Foundation and the co-author of High-Impact Learning for Self and Society: Community-Engaged Signature Work.
Our conversations include leaders representing Youth Empowerment Services, New Labor, and the New Brunswick Community Food Alliance among others; Jon Wogman, program director, Congressional Hunger Center and Dr. Cara Cuite, Department of Human Ecology and the Food Policy Institute at Rutgers.
Community partners, faculty, staff, and students are invited to bring their expertise, experience, and energy to the RU-CARES community. Contact Rutgers Collaborative Center to learn more.