Division of Diversity, Inclusion and Community Engagement Helps to Encourage Artistry Through Nature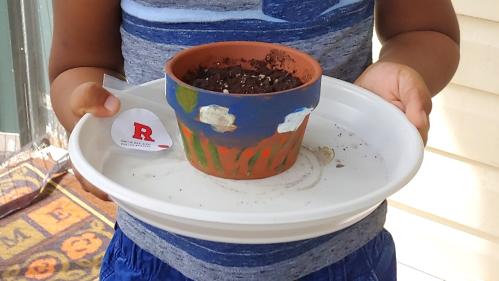 In collaboration with Piscataway Township Schools, Rutgers-New Brunswick's Division of Diversity, Inclusion, and Community Engagement (DICE) helped Piscataway school children celebrate Spring through art. The 'Celebrating Arbor Art Contest' welcomed all pre-K through 12 students to participate in the inaugural district-wide Arbor Day event.
The contest was divided into three age groups, with each focusing on a specific project. Pre-K through third graders decorated a flower pot to plant their own tomato plant. Students in grades four and five were asked to create natural art from organic elements found outdoors, such as leaves, rocks, sticks, and flowers. Students in sixth through twelfth grades created a design for a reusable tote bag. Of the high school submissions, one was selected as the winning design and printed on 1,000 reusable bags.
"This was truly a collaborative effort, with several departments from across the university chipping in to create an artistic learning experience for the children," said Melissa Wooten, Associate Vice President for Academic Equity, DICE. "We're glad we could engage the students with a safe and creative project while teaching them about the many ways that art can be environmentally sustainable."
The Rutgers Collaborative Center for Community-Engaged Learning and Research, which is part of DICE, worked with Piscataway Township Schools to determine and secure the needed supplies. DICE purchased the reusable shopping bags and the Collaborative Center secured 3,000 tomato seeds from the Rutgers New Jersey Agricultural Experiment Station (NJAES) Cooperative Extension and the Rutgers Plant Diagnostic Laboratory.