Shaping the Diversity Strategic Plan in New Brunswick
Draft Goals Now Available!
Visit the Diversity Strategic Plan page to learn about the cross-cutting and high level goals that will guide early actions and investments.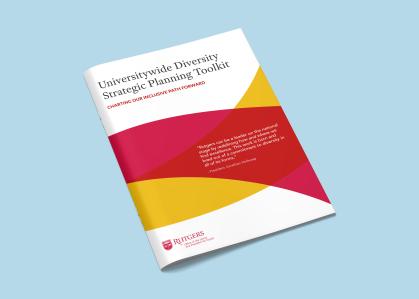 To support the implementation of the universitywide diversity strategic planning process at Rutgers–New Brunswick, a steering committee was formed with co-chairs tied to each priority to develop campus goals based on extensive campus feedback. 
Priority 1: Recruit, Retain, and Develop a Diverse Community
Priority 2: Promote Inclusive Scholarship and Teaching
Priority 3: Define Sustainable and Substantive Community Engagement
Priority 4: Build the Capacity of Leaders to Create Inclusive Climates
Priority 5: Develop an Institutional Infrastructure to Drive Change
Stakeholder Engagement
The steering committee engaged extensively with members of the New Brunswick community in spring 2021 to inform the campus goals and action steps developed. Learn more about the different forms of stakeholder engagement below.
The universitywide diversity strategic planning assessment survey was launched at the end of January and was in the field for approximately 6 weeks. The survey enabled the university community to give feedback and share their perceptions of current state in relation to each priority, and to help the Chancellor-led units and the university set goals for where we aspire to be. A total of 3,330 people, including undergraduate students, graduate students, postdoctoral trainees/learners, staff, and faculty, participated in the survey from New Brunswick. Initial survey result were shared to inform planning. Read the executive summary of the public university report comparing across Chancellor-led units. Check out the full report to view the graph visualizing differences in perspectives by roles and identity.

The steering committee identified various constituencies, units and organizations representing students, staff, faculty, and leaders, from across the campus to inform the development of campus goals and/or reflect on the goals that were developed. These meetings, 28 in all, generated insightful and engaging conversations about the various priorities that informed the goals and action steps devised.

Deans appointed equity advisors across twelve schools/colleges in New Brunswick, and they have met once a month to plan, share resources, and progress on the diversity strategic planning process. This group thoughtfully engaged with a range of issues, such as the need for unit level demographic data to track trends, mechanisms to assess organizational climates, shared best practices for engaging various stakeholder groups, as well as research and practices for building our capacities to promote inclusive communities. 
Learn More: Taskforce on Inclusion and Community Values
The 2017 report of the Taskforce on Inclusion and Community Values outlined what Rutgers - New Brunswick needed to do to advance an inclusive culture. During the summer of 2020, many responded to our survey invitation to reflect on the recommendations generated and offered new suggestions for how we can move forward.